Tom has been investigating residential, commercial and industrial switches as part of his research into the former and present communities and occupations in Petersfield. Initially inspired by the objects on display at the Cambridge Museum of Technology, from electrical engineering to the switch that turns on our kettle! This ubiquitous, yet often overlooked, everyday item conveys much about the people who used the items and the period in which it was created.
A switch label, as simple as it may sound, enables us to identify the correct switch to flick, switch, or turn. Introducing this element to the artworks enables machines or appliances to be showcased in colourful and graphic style. And at the same time, can identify and showcase a wide variety of components and instruments that have a relationship with the housing development's locality and residents, past and present.
There has also been a collaborative out-reach strategy for the project and more information can be found HERE
–
---
–
The project is being commissioned to enrich the new development and enhance the public space provided through the scheme. The focus for the artwork is to be the shared communal spaces and clear, legible routes through the development.
As the appointed artist Tom is developing a series of artworks, which enhances the setting for the new residential development on the former depot site, referencing the distinctive context of Mill Road.
For information about the wider strategy and ambitions of the scheme please visit the main project website:
–
---
–
–
---
STEAM POWER - In the 1850's under the partnership of Headly & Manning, The Eagle Foundry manufactured a wide variety of steam powered machinery and engines including engine boilers, gasometers and pumps for use on the land or for drainage.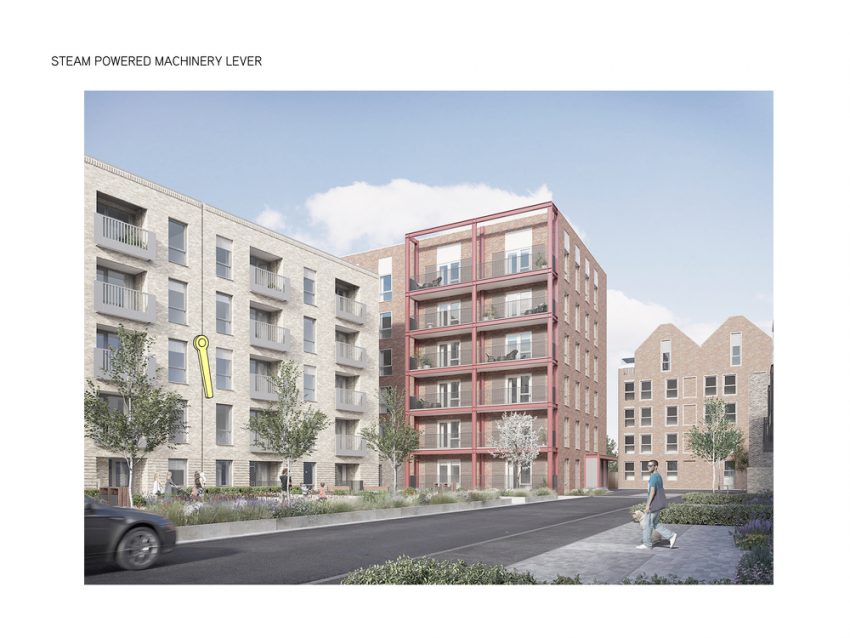 CONTEMPORARY DOMESTIC SWITCHES - Domestic entrances or corners of buildings like a switch as you enter a room. - Play on domestic appliances and 'value' / 'requirements' for healthy home living. - Can be 1 or 3: Kitchen / Bedroom / living room
PYE TELEVISION 1937 - A 5-inch Pye television receiver was priced at 21 guineas and within two years the company had sold 2000 sets at an average price of £34. 1949 Pye claimed to be 'The largest TV manufacturer in Britain'.
COMMUNICATIONS -  In February 1944, The Cambridge company, Pye formed a subsidiary called Pye Telecommunications Ltd, The company grew to become the leading UK producer of mobile radio equipment for commercial, business, industrial, police and government purposes.
STEREOSCAN - The Stereoscan was the first commercial scanning electron microscope in the world. It could magnify up to around 100,000 times. It was developed at the University of Cambridge's Engineering department in 1965. It was named 'one of the 100 most significant new technical products of the year'.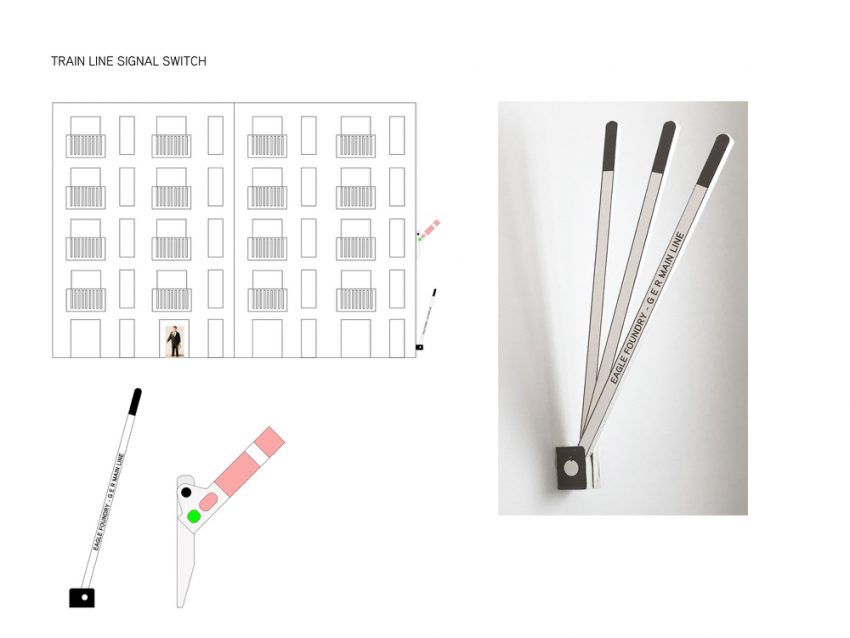 TRAIN SIGNAL / SWITCH - The Eagle Foundry (pink) occupying the central part of what was to become the Council Storeyard. Land to left between Foundry and rear gardens of Kingston Street houses, and to right between Foundry and railway, under different ownership (1886 OS map) 2 location options