Artist Tom Pearman was commissioned by originalprojects; to design a presentation of a train enthusiast's photographic collection as part of Great Yarmouth Expo, a project that collects and celebrates cultural artefacts, personalities and customs from the people of Great Yarmouth.
The display, which is presented as a frieze around the station's 65 meter interior perimeter, shows a small selection of photographs of trains taken by Mark Potton at Great Yarmouth Station taken over a 50 year period.
Pearman took Mark's photographs and reflected and repeated them to present a contemporary interpretation that draws attention to the common vanishing point. The sense of movement also suggests a looking back to the past to find a way forward. The ring-binder motif and handwritten notes acknowledge the local source of the collection.
Mark Potton is a train enthusiast who has taken over 20,000 photographs of trains at various locations around the United Kingdom and has amassed an impressive collection of associated memorabilia.
Supported by the National Lottery and Art's Council.
A collectable folding promotional poster was produced showcasing the project.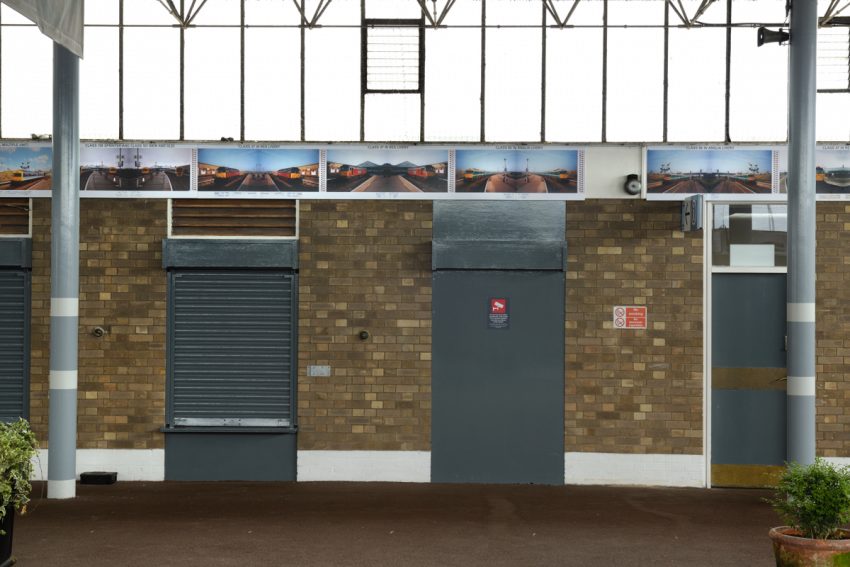 folding promotional poster