- trying some new materials for a project, more news to follow…
10-05-2018 - space stations over Hackney Marshes
Post production is kept to a minimum in documenting a series of space stations over Hackney Marshes. 
03-05-2018 - PAPER SPANNER
TRYING SOME PAPER MODEL MAKING AS PART OF AN APPLICATION I'M MAKING – HOPE TO GET THIS PROJECT SO MORE NEWS TO FOLLOW….
26-04-2018 - NEW GLASS SERIES – 'WAREHAUS'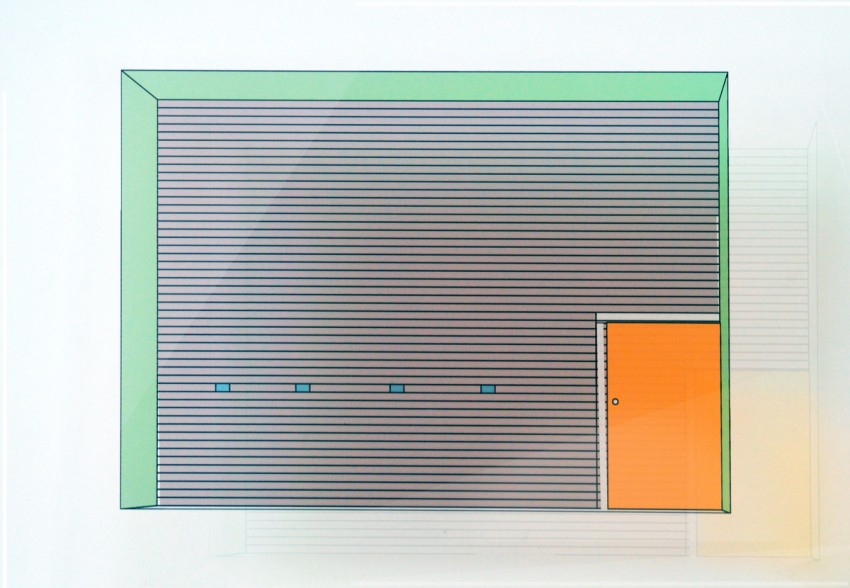 The title 'WAREHAUS' comes from a nearby 'unaffordable' housing development. It is the start of new series of wall-mounted glass artworks offset form the backing – to offer a contrast between the graphic shapes and soft coloured shadows created.
16-04-2018 - GREAT YARMOUTH STATION PUBLIC ART PROJECT
Artist Tom Pearman has been commissioned by originalprojects; to design a presentation of a train enthusiast's photographic collection as part of Great Yarmouth Expo, a project that collects and celebrates cultural artefacts, personalities and customs from the people of Great Yarmouth.
The display shows a small selection of photographs of trains taken by Mark Potton at Great Yarmouth Station taken over a 50 year period.
Mark Potton is a train enthusiast who has taken over 20,000 photographs of trains at various locations around the United Kingdom and has amassed an impressive collection of associated memorabilia.
Supported by the National Lottery and Art's Council.
27-03-2018 - NEW PLANS FOR ORBIT SERIES
As with the 'Planets' series, 'Orbits' is the start of a larger project, referencing Andrei Tarkovsky's film, Solaris (1971).
The new series expands the series into the realm of UFOs….